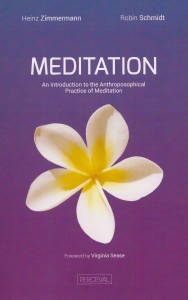 Meditation – An Introduction to the Anthroposophical Practice of Meditation by Heinz Zimmermann and Robin Schmidt has recently been published in English and French translation (from original German) by Editions Perceval, Quebec. This edition features a foreword by Virginia Sease. English translation by Maria-Theresia Roemmelt, Heidi Vukovich and Brigitte Knaack, revised and edited by Eric Philips-Oxford; French translation by Arie van Ameringen and Renée Cossette. The publication was supported in part by the Anthroposophical Society in Canada. It was published in German in 2010 by Verlag am Goetheanum, Dornach, CH.
From the foreword to the English version by Virginia Sease: "People who had the opportunity to experience presentations by Heinz Zimmermann (member of the Executive Council, General Anthroposophical Society, at the Goetheanum 1988-2008, who died 2012) concerning meditation could notice the manner in which he was able to unite a method of approach to the content of a specific meditation. The co-author of the book, Robin Schmidt, as a former graduate student of Heinz Zimmermann, bears witness to the creative result of such a union of method and content. Meditation itself is the determining factor and the method arises as a practical guideline to permeate more deeply into the spiritual essence latent in the meditation. Few books approach this theme in a comparable manner ….. "
And from the back cover: "This book sets forth the basic principles of anthroposophical meditation practice … The results of this meditative practice can greatly enrich one's daily life. The work sheds a contemporary light on the fundamental principles contained in Rudolf Steiner's 'Knowledge of the Higher Worlds And Its Attainment'.
Thanks to their many years of experience in leading meditation workshops, the authors are able to provide the reader with a rich variety of concrete examples…
Among the themes covered in this book the reader will find: The elements of self-transformation; Creating an inner space; The various forms of meditation; The artistic path and the meditative path; Meditation and self-knowledge; Meditative work in groups."
The front cover is beautiful, with a serene yellow and white frangipani blossom on a blue-to-purple background. 184 pages, paperback.
Copies of the book are available from Arie van Ameringen at Les Editions Perceval, 1358 rue Bruce, R.R. 3, Dunham, Quebec J0E 1M0; [email protected]; www.editionsperceval-ca.com, $30 each, plus shipping if applicable. Order form below. By Interac etransfer or cheque, payable to 'Les Editions Perceval'.