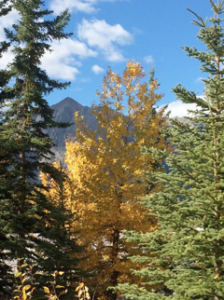 Dear friends
May you be filled with courage and love during this time of Michaelmas!
The carrying group (John Glanzer, Michael Galbraith, Christoph Wuerscher, Christine Wuerscher) recently met and discussed activities for the fall.  We are feeling and thinking that in COVID, there may be a call for individual deepening and initiative.  And so, for that reason, and also because we are personally "stretched" and there are many rich online opportunities to deepen our knowledge and experience of anthroposophy, we are taking a hiatus from offering our own study group this fall.  We recommend that you decide how you will nourish and enact your relationship with anthroposophy this fall, perhaps using one of the suggestions below, and that then, early in the new year, we will get together (in person or online) to share our experiences and learnings.  If you have any questions or concerns, please contact me (Christine) at [email protected].
So here are ten suggestions (I've only listed things of which I am aware and in no particular order):
1. Leading Thoughts (Every 2nd Thursday, 5:30 – 7 pm MT), now until May
This is being offered by the Anthroposophy Society of America as part of their "Applied Anthroposophy"Course.  4 Themes will be explored:  Freedom in Thinking, the Power of Love, Individual Initiative, and Service to Humanity.  Presenters include Rev. Patrick Kennedy, Lisa Romero, Dr. Lakshmi Prasanna, Carrie Schuchardt, Dr. Adam Blanning, Chris Burke & Anne de Wild, Linda Bergh.  At least 2 members of our study group, Julia and Mike, are taking part in this great course. While registration for the full course is closed, we are still able to register for Leading Thoughts only.  .  Please let me know if you do sign up – it would be fun and formative if there are a number of us being exposed to the same content.
Here is the website for information about the course:  https://appliedanthroposophy.org/
The organizers have kindly reopened registration for us.  As this is a late registration please contact Linda Leonard from Accounting ([email protected]) to pay for the course and so that you can receive the necessary information to join the remaining weeks and receive recorded versions of any sessions you missed.
2.  Arscura School for Living Art with Regine Kurek online course
(starting Oct 15th!!! but you may be able to register later)
Awakening (to) the Cosmos on Earth is a two part (Oct. – Nov. and Jan.-Feb.) course using a variety of media to draw, paint and explore.     Regine is offering an online class
with a weekly letter of instructions arriving each Thursday morning for the two days'  (Thursday and Friday) work and some more communication in between classes.  Of special interest in this exploration will be the question: "What can be the gifts to the world WE can offer at this time through our art work and by creating together as a community?"
See the following link for more information:  http://www.arscura.com/thisyear.html
3.  Eurythmy
Theodor Hundeammer has a eurythmy practice in Bern and Biel in Switzerland and offers online sessions.  He offers Eurythmy with Theodor on Mondays at 11 am MT.  Currently the focus of the eurythmy is Health for the Heart.  He also offers Webinars and recordings: Eurythmy to strengthen the immune system; The Eightfold Path;  Activity/Anthroposophy Based Stress Reduction and more.  There is a cost but Theodor will generously allow you to participate for free if finances are an issue.
Nina is offering eurythmy in Edmonton and Mexico, and guides a foundation year.  Check out the website for more info.
4.  Anthroposophical Society of Canada website:  https://www.anthroposophy.ca/en/
Explore the site to see if there are online studies being offered by other branches and to see what is happening nationwide.
 TALC (Tiny Anthroposophical Library of Calgary) and www.rsarchive.org
We have over 200 books by Steiner and others here is Calgary that can be borrowed for free!  Contact Christine at [email protected] for more information or questions about certain books or if you would like to donate your books.  And, if we don't have the book, or you prefer to access it digitally, check out https://www.rsarchive.org
Perhaps especially appropriate during this time of physical distancing is the book Knowledge of the Higher Worlds.  There are also books on meditation and so much more!
 Goetheanum School for Spiritual Science ( www.Goetheanum.co/en/ )
Check out the website of the worldwide Anthroposophy Society and the various Sections.  Perhaps you will find a specific area, such as Goethean science, that you would like to become more involved in.
7.  Online courses
Foundation Studies Distance Program (Rudolf Steiner Centre in Toronto; www.rsct.ca):
Online anthroposophy courses on a variety of topics:  www.sophiainstitute.us
 Other webinars and podcasts (current and previous)  from the

 

Anthroposophical Society of Canada:
https://anthroposophy.org/webinars-events/
https://anthroposophy.org/podcast/
9.  Practise the 6 subsidiary exercises or the Eightfold Path in Knowledge of the Higher Worlds, or other spiritual practices found within.
10.  Meditate and spread love to the world through thinking, feeling, and willing.
May you all have a fruitful autumn and early winter!  I look forward to seeing you in the new year with lots to share.
With warmth,
Christine
(I captured the flaming larch near Highwood Pass in Kananaskis Country and the amazing sunset west of Okotoks during the last week of September and early October: (c)